When Edgware garage was first opened by the London General Omnibus Company in 1925 it had space for 24 buses, but there was plenty of room adjacent to the then recently built underground station.
In 1939 a new building was erected next to the original one, which was to become the new bus station, while the remaining open parking Cricklewood garage was to become a fully functioning garage with new facilities. The outdoor parking area and the bus station then became a midibus base in 1993, with a new bus wash and light maintenance facilities provided in the yard.
In 1999 London Sovereign, which had won some recent tenders in the North East London area, took on a 10-year lease on half of Edgware garage and invested in new maintenance facilities to replace its former base at Borehamwood. In late 2000 Metroline moved back into the other half of the garage, making it one of the few garages to be shared by two operators. Edgware is currently renting out half a garage to London Sovereign (BT)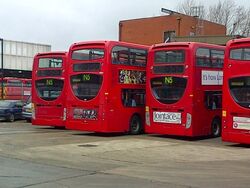 Metroline Edgware (EW) Currently Operates Routes (as of June 2017):
107 - Edgware Station to New Barnet Station
113 - Edgware Station to Oxford Circus
N113 - Edgware Station to Trafalgar Square
186 - Northwick Park Hospital to Brent Cross Shopping Centre
204 - Edgware Station to Sudbury Town Station
240 - Edgware Station to Golders Green
606 - Queensbury Station to Ravenscroft School (The Totteridge Academy)
N5 - Edgware Station to Trafalgar Square
N98 - Stanmore Station to Holborn Station
Ad blocker interference detected!
Wikia is a free-to-use site that makes money from advertising. We have a modified experience for viewers using ad blockers

Wikia is not accessible if you've made further modifications. Remove the custom ad blocker rule(s) and the page will load as expected.