London Buses route 282 is a Transport for London contracted bus route in London, England. Running between Ealing Hospital and Mount Vernon Hospital, it is operated by Metroline.
The route began on 30 October 1968 running between Northwood Station and Greenford Red Lion as a replacement for the withdrawn section of a then route 232 (itself replacing route 225 between Eastcote Lane and Northwood). The route was extended on Tuesday, Wednesday and Saturdays and Sunday afternoons to Mount Vernon Hospital.
In 1975 the Hospital journeys were increased to Monday to Friday midday and early evenings and all day Saturdays (except evenings) and Sundays afternoons as before. In 1979 the route was finally extended to run at all times to Mount Vernon Hospital, it was also extended from Greenford to Southall Bus Garage. It was further extended on 9 August 1986 from Southall to Hanwell Bus Garage, on the closure of Southall Garage, to where its allocation was also transferred.
On 26 September 1987, the route was diverted to directly serve Ealing Hospital, and on 3 February 1990 it was withdrawn between Hanwell Garage and Ealing Hospital (except for garage journeys).
In 1993, Hanwell Garage closed and the allocation was once again transferred, this time to Greenford Garage. The route was converted to low floor in 1998 using Marshall Capital bodied Dennis Dart SLFs, then during 2003 the route was double decked using Plaxton President bodied Dennis Tridents.
On 22 June 2013, the route was included in the sale of First London's Greenford (G) garage to Metroline.
In 2014, the Plaxton President bodied Dennis Tridents were replaced by Alexander Dennis Enviro 400s from routes E1 and E3.
On 7 March 2015, the route was retained by Metroline.
Current route
Edit
Ealing Hospital
Greenford Broadway
Yeading White Hart Roundabout
Northolt 
Eastcote Station
Northwood Hills Station
Northwood Station
Mount Vernon Hospital
External links
Edit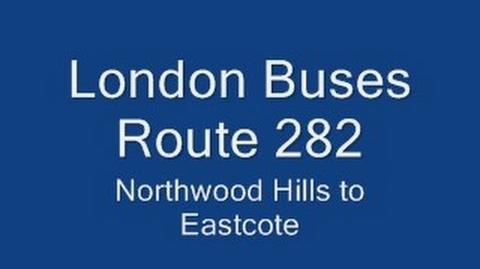 Ad blocker interference detected!
Wikia is a free-to-use site that makes money from advertising. We have a modified experience for viewers using ad blockers

Wikia is not accessible if you've made further modifications. Remove the custom ad blocker rule(s) and the page will load as expected.